How To Sell Your Home Faster – The Complete Guide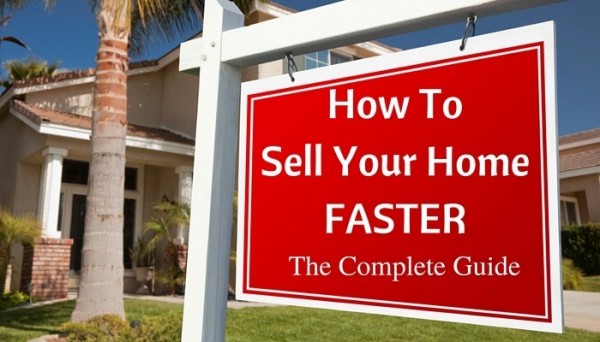 You are used to your home, so most likely you do not notice the many things you could do to help it sell faster. Beginning with the exterior, there are things you can do on even a small budget that will help make your house more appealing and sell faster.
Curb Appeal is extremely important
The first view of your house that prospective buyers have is your home's exterior. It is the view that remains etched in their minds much longer than the interior does. The National Association of Realtors collected data in a survey of prospective homeowners. 71% of them felt that curb appeal was of paramount importance in choosing their home.
There are many things you can do to enhance the curb appeal of your house:
A neat, pretty yard adds greatly to curb appeal.
Make sure all trash is cleared from your property at all times
Repair sidewalks if they have cracked.
When you are showing your house in spring, summer or early fall keep your lawn mowed, but set the height on the mower to a level that leaves the grass green.
In fall, rake the leaves frequently.
Trim around walkways and patios so that everything looks neat.
Replace any shrubbery or plants that look sickly.
Weed flower beds weekly and compost the dead weeds.
Scrub away any dirt or mold on outbuildings like your garage.
Trim out dead wood from shrubbery and trees and remove it from your property.
Add plants to your landscape
Evergreen plants are the best choice for adding curb appeal because they look wonderful year-round. Avoid deciduous plants as they tend to look barren in the fall and winter. Ornamental cabbages and Pansies are great if you want to add a little color.
Other plants that enhance curb appeal include: Hostas, Rhododendrons, Dwarf boxwoods, Heavenly Bamboo, Laurel 'Otto Luyken', Holly, and Azaleas.
Paint your front door and any shutters
A dingy, faded front door will cause many prospective buyers to drive by without ever seeing the inside of your house. Paint it with a color that is in keeping with the style of your house.
Choose a color that is in accordance with the houses in your neighborhood, and one that coordinates with your house's exterior colors. Traditional style houses quite often have front doors with deep, rich colors such as black, a luminous dark red, a striking navy blue, or a deep forest green. More modern housing styles often opt for front door colors in earth tones or bright, bold colors.
Make your backyard look inviting
Your back yard offers its own version of curb appeal. Families with children will appreciate a neat, well-organized backyard. People who enjoy entertaining will want to see at least a patio. If you do not currently have a patio, you can get flagstones from one of the large hardware stores and lay them down to create a patio.
You can also add some comfortable lawn furniture, a fire pit or a grill, and a solar fountain to make your backyard look more enjoyable.
Making your home's interior more inviting to prospective buyers
Contrary to what you may think, the hottest design and decorating trends are not what sells a house. Home buyers want to be able to picture themselves in a house.
Paint the interior in neutral shades
Walls with the latest bright colors may be trendy, but they do not sell a house fast. Paint your walls a neutral shade so that buyers can more easily imagine their possessions in your home. Wallpaper is also not recommended, as it detracts from a prospective buyer's ability to see his or her furnishings in a room. Repainting your home's interior is a relatively inexpensive job.
Modernize your kitchen
It's a not-so-well-kept secret in the real estate industry that a kitchen can sell a house. That is why it pays to invest any remodeling funds you have toward updating your kitchen. Kitchens are where we gather, eat, and share. An inviting kitchen, especially one that has an eat-in area goes a long way toward selling your house fast.
While a complete remodel of your kitchen can be quite expensive, there are many things you can do to update the looks of this house-selling area:
Update your kitchen faucet with a modern design.
Replace the knobs and drawer pulls on your kitchen cabinets and drawers with updated, fancier knobs and pulls that match the appliances or some other feature of your kitchen.
Most kitchen appliances sold in the last few years have replaceable front panels. Order new matching panels for your all your major kitchen appliances. Stainless steel looking panels are a great choice. According to realtors, most buyers prefer the look of stainless steel.
If your kitchen cabinets are painted, give them a coat of fresh paint. If your kitchen is small and you want to make your kitchen seem larger, use a lighter color paint on your kitchen cabinets.
If your stove is electric, replace the burner pans with shiny new ones. Replacement burner pans that fit your stove are usually available from the stove's manufacturer. Then cover the burners with burner covers.
Remove all magnets from your refrigerator.
Declutter your home
You are selling the space inside your home, not your possessions. Much as you enjoy your knick-knacks, pictures, and other decorative items, they are merely a distraction for potential buyers. Pack them up and store them while your house is being shown to prospective buyers.
Clutter can kill the sale of your house. Not only does clutter interfere with prospective buyers imagining where their things will go, according to a study conducted at Princeton University, clutter impairs their brain's ability to sort, process and focus on the information they are seeing. A UCLA study found that being around clutter causes sensory overload, excessive stress, and interferes with a person's ability to think creatively.
We all have a certain amount of clutter in our homes. Oftentimes we get so used to seeing it that we forget it is there. You want a prospective buyer to be able to creatively envision his or her things in your house without distraction, so you need to get rid of the clutter.
Here is a checklist of things you can do to clear clutter:
Kitchen:
Straighten the dishes in your kitchen cabinets. Pack away extra dishes, leaving only the bare minimum you need to use.
Clear off the counters, putting things away.
Put away any small appliances that are sitting out. If you do not use them often, pack them away rather than putting them in your cabinets.
Remove anything that is on the window sill.
Take down and pack away all refrigerator magnets, artwork, etc., leaving the refrigerator bare.
Be sure to empty the dishwasher each morning.
Clean your sinks daily. If they are stainless steel, get some stainless steel cleaner and shine them up.
Living room:
Pack away all pictures except the ones hanging on the walls.
Remove decorative figurines and pack them away also.
Keep the sofa pillows straightened.
Take all magazines and other similar materials out of the living room.
Put the remotes for your TV, VCR, and other electronic equipment beside the equipment itself in a neat manner.
Do not leave children or pet toys lying around on the floor.
Bedroom:
Always make your bed and straighten the bedside table.
Leave only clocks and lamps in plain sight on the bedside tables.
Remove everything from the top of your bureau.
Place expensive jewelry in storage or in a lockbox.
Organize your closet so it looks neat.
If possible, put your dirty clothes hamper out of sight.
Bathroom:
Remove as many items as you can from your sink area and the back of your toilet.
Straighten towels, making sure they are neatly on the towel rack, not the floor.
Clean the bathroom thoroughly, paying special attention to the mirror.
Use a light, non-toxic spray to ensure your bathroom is fresh-smelling (you can get one at your local health food store).
Dining room:
Take everything off of the dining room table.
Put the chairs under the table as it makes the area look more spacious than if they were sitting around haphazardly.
Straighten glasses and dishes in the hutch.
If you have a nice floral arrangement, put it in the center of your dining room table.
Attic or basement:
Pack up and move as much as you can out of the attic or basement so they look spacious
If there are things you cannot move from these areas, put them all together in one section of the area.
Ensure that the pathway into the attic and basement is not blocked in any way.
Getting ready to sell your house is a great time to sort through your possessions and get rid of what you no longer need. Sell them, donate them, or give them to a friend.
Listing your home
You'll want to let prospective buyers know all the wonderful facets of it. If you have upgraded to any of these features, be sure to include them in your listing.
Features today's home buyers are seeking:
Green appliances and systems
Many homebuyers care about energy efficiency. If you have installed energy efficient systems or appliances, they are a great selling point. Be sure to mention in your listing any of the following:
Water efficient shower heads in the bathrooms
Low flow faucets on your sinks
A hot water heater that combines with a heat pump to save energy or a tankless water heater
One of the newer High-Efficiency washers using less detergent and water
A programmable thermostat
An energy efficient dishwasher that uses 5.8 gallons per cycle rather than the 10 gallons per cycle older models use
Energy efficient windows like thermal-paned ones
Storm windows
A graywater system that can be used for toilet flushing
Added insulation, especially in the attic
A backyard compost bin
An in-home recycling center.
Storage
If your home has capacious storage areas that can hold a lot, be sure to let prospective buyers know this in your listing. Be sure to mention any organizers you have added to your closets and storage spaces also.
Features that would appeal to seniors
If you are moving from a smaller home to a larger one, be aware that there are a lot of seniors who are downsizing to a smaller house from a larger one. They are looking for features such as:
A front and back door entrance with few or no steps.
Single-story homes
No-hassle landscaping
Walk-in showers
Great storage space such as a shed
Location
Your home's proximity to subways, train stations, bus routes is an important factor to many people. Likewise, if you are in an area that is near schools, parks, churches, restaurants, and other attractions, this is important to mention as well.