Rising Rates Could Hurt Upside Down Mortgage Refinancing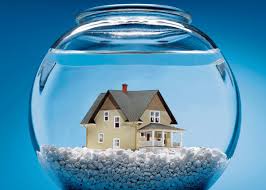 Last week mortgage rates continued to rise in a six week rally moving to 4.51% up almost a full point increase compared to this time last year. While they remain at all time lows the Fed's stimulus program may be wearing thin. The initial spark to these rates were comments made by Fed Chairman Ben Bernanke  that suggested that the central bank may start to cut back its mortgage backed bond buying which directly impacts interest rates.
This could mean big trouble for homeowners who are upside down in their mortgage, with the rising rates refinancing could soon be unattainable leaving millions stuck in overpriced homes with no way out. The states that are currently most affected by upside down real estate are Nevada, Florida , Missouri , Illinois , Ohio, Georgia, Arizona and California  which all have over 30% of their mortgages upside down. Luckily this week rates took a tiny dip to 4.37% after the chairman reassured the markets that spending would remain, but this doesn't mean that rates won't  continue to go up. if you live in one of the above states the time to act is now if you are looking to refinance!
Mortgage rate statistics released last week by Freddie Mac

30-year fixed-rate mortgage averaged 4.51% with an average 0.8 point for the week ending July 11, 2013, up from last week when it averaged 4.29 percent. Last year at this time, the 30-year FRM averaged 3.56 percent.
15-year this week averaged 3.53 percent with an average 0.8 point, up from last week when it averaged 3.39 percent. A year ago at this time, the 15-year FRM averaged 2.86 percent.