Miami Real Estate is Heating Up Despite National Decline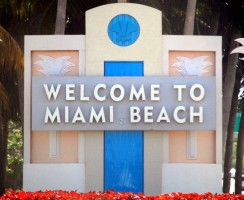 According to Realtor.org the pending home sales index across the U.S. has slowed dropping off slightly in June  down 0.4%. This can be attributed to the rising mortgage rates and house prices the market has seen over the past few months. Miami however, is appearing to do just the opposite making it one of the top 5 hottest markets in the U.S. with pending home sales up 2.1% year over year and 0.8% over May.
Not only have their pending sales increased their total sales have risen 16% their median sales price has gone up 12% to $212,200 which is almost $40,000 higher than the national average. Not to mention they are making these sales / price increases with an average list price $10,000 lower than the national. Miami is also not alone in the good fortune amidst the bad, with the metro areas of Orlando (16%), Kissimmee (10%),  Oviedo (36%), and Altamonte Springs (22%)  all having increases in total sales.
With a declining national average there were some losers in the state of Florida, the metro areas of Winter Springs (11%), Winter Park (13%), and Lake Mary (13%) all had a loss in total sales year over year. It's too soon to tell if sales will continue to decline in the coming months but if you need help selling your home regardless of area US Home Assist is here to help!
Sources (Realty Trac & Realtor.Org)